Support & Contact
AUGMENTED REALITY
FOR EVERYONE
Use the form below to contact us about setting up your AR LaunchPad account,
or if you have any questions / feedback.

To learn more about our plans, please click here.
---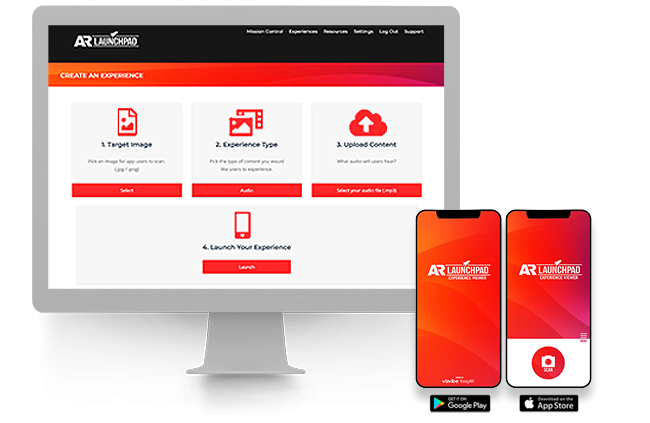 App Info
Newest Version: v4.0.0
Released: April 12, 2021
Minimum OS: iOS 11+ | Android 8+
---
Frequently Asked Questions
In general, AR content will have some visual indicator nearby to inform you that something is scannable. In VizVibe's case, we use a rocket icon, but other creators on the platform may have various different icons.
If you're unsure, you can check in with your organization to see what icon they're using.
Ensure you're on the strongest possible internet connection for optimal downloading speeds.
If your download freezes entirely, it might indicate that you need to restart your device to free up the memory on your device. As a bonus, this will likely also speed up other apps on your device.
Ensure your device's Silent Mode is disabled for audio functionality within the app.
You may need to use the app's Update Content button to get the latest content in the platform.
If you have updated and aren't an AR LaunchPad Learn creator, please use the support form to let us know.
To use your Learn Code, open the AR LaunchPad app. In the menu, switch over to Learn Mode and go into the Learn Codes form page. Enter your Learn Code there, and when you use Update Content on this side of the app, your Learn-based content will download and be ready for use!
Please use the in-app reporting system inside the camera, or use our support form, to inform us!